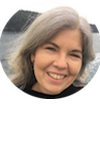 November 13
ONLINE
Program Description
In this 3-hour workshop, we'll dive into communication by reviewing research and talking as a group, with plenty of time for hands-on practice.
We do it all day long. Essential at work and essential at home and everywhere in between. And yet we have little training in how communication works. No wonder we so often feel confused, frustrated, misunderstood.
Mindful Communication helps us break down this complex process, increase awareness of what's really going on, and bring greater clarity and kindness to our interactions.
Mindful Communication asks, What can I bring to this communication? What qualities, such as kindness, acceptance, patience, lightness, humor, and strength can I offer?
When we communicate mindfully, every interaction is fresh with opportunity and open to discovery. Mindful Communication also concerns itself with foundational issues of social justice and inequity which color all communication.
Join us!
SCHEDULE
Saturday, November 13
2pm – 5pm PST
TEACHER
Teresa Johnson
LOCATION
Offered Live Online. Zoom link will be sent to you by email once you register.
COST
Tuition is offered on a sliding scale ($45-$100). We also offer payment plans and a limited number of scholarships for each program. No need to apply; simply choose the amount that's right for your budget.
Register for this program
Return To Previous Page