A convenient way to access our practice recordings is with the free Insight Timer app. There is a one-time set up process to make it easier to use. Please follow these steps:
STEP 1
Download and install Insight Timer – this free app offers a useful meditation timer and access to an array of guided meditations, including Mindfulness Northwest practice recordings. You will be required to create an account but you do not need to sign up for any paid subscriptions to use Insight Timer.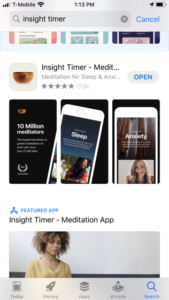 Insight Timer is available on the Apple Store and Google Play Store as a free download right on your phone.
Launch the app. The home screen has options for Timer and Guided as well as other features like Courses, Sleep, and Music.
STEP 2
Click Guided (head phones icon). The initial list includes featured or new recordings from various teachers. We want to filter the list down to the ones from Mindfulness Northwest.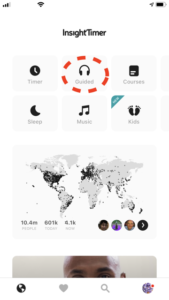 STEP 3
A new search box appears at the top. Type in "Northwest" and click on Mindfulness Northwest. Click on the magnifying glass search button at the very bottom of the screen.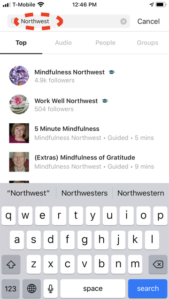 STEP 4
After clicking on Mindfulness Northwest you should see just our recordings.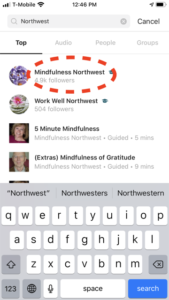 STEP 5
Once the Mindfulness Northwest section opens, you'll need to scroll down on the phone to see our recordings.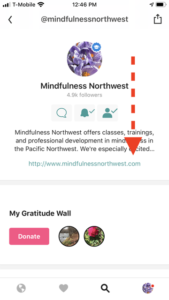 See them? Click on one that fits the class you're taking.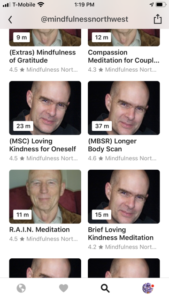 STEP 6
Once the recording opens, click the little bookmark icon in the upper right. It will turn black to show that you have now bookmarked this recording.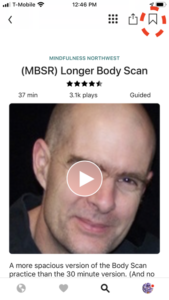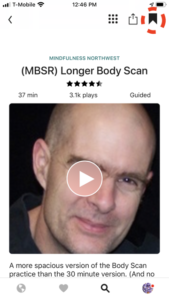 Close the recording (with the left arrow, upper left) and open another recording of interest. Then bookmark that recording, too.
Repeat for all of the recordings that seem to fit your class. You can always come back later.
STEP 7
To quickly get to your Mindfulness Northwest recordings in the future, use the little heart icon at the bottom of the screen to get to your bookmarks list.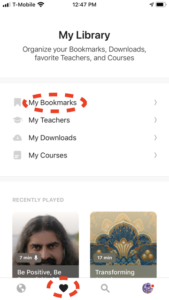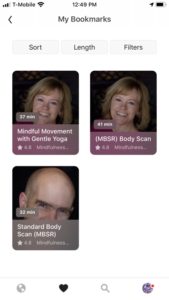 From now on every time you open Insight Timer on your phone you will be able to get quickly to the Mindfulness Northwest practice recordings by clicking the little heart icon on the bottom of the screen.
You're all set! It'll now be easy to open Insight Timer. Get to the home screen if needed. And click the little heart icon at the bottom to see your bookmarked Mindfulness Northwest practice recordings. We look forward to practicing with you.