Over the last decade, Mindfulness Northwest has trained employees at dozens of corporations, medical centers, and non-profits. From Seattle to Bellingham and beyond, participants report improved work performance, less anxiety, and increased team connection. For a sampling of our clients and collaborators, check out the logos below.
Try our Introduction to Mindfulness as a way to start the conversation with your team. For a deeper dive, choose a workshop like Mindful Leadership, Mindful Communication, or Mindfulness & Emotional Resilience. Our 8-week Mindfulness-Based Stress Reduction (MBSR) course is the gold standard. Well-researched and widely taught, this participatory class has the power to transform your workplace. Or work with us to create a custom workshop designed especially for your team.
We make it easy! Let our efficient, responsive staff help you find just the right training. Contact us to bring mindfulness to your staff or volunteers.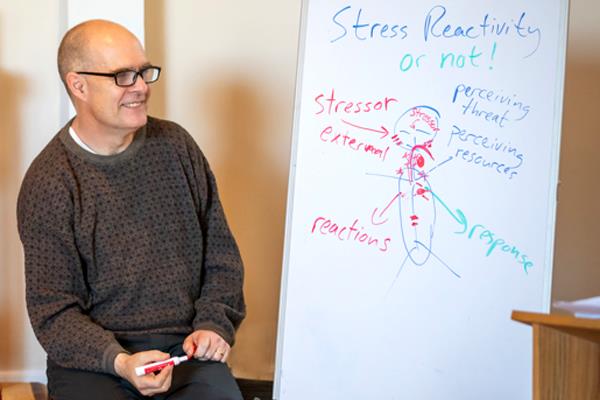 EVIDENCE-BASED TRAINING
A substantial and growing body of peer-reviewed research confirms that when organizations provide mindfulness training to employees, everyone profits.
Organizations enjoy these benefits:
Greater employee engagement
Higher morale
Improved productivity
Reduced stress and burnout
Lower turnover
And their employees report:
Stronger connections to the organization and other employees
Greater job satisfaction
Improved focus and creativity
Gratitude for the benefits of this training on their non-work lives
The research also identifies these general health and wellness benefits:
Increased stress resilience and reduced anxiety
Improved immune system function
Improved response to chronic pain
Reduced symptoms and risk of many chronic diseases (high blood pressure, heart disease, asthma, GI distress, skin disorders)
And many others
Research citations available on request
To bring mindfulness to your team, contact us.
Kind and thoughtful presenters. Useful practices. Calming and effective.
We had the pleasure of Tim Burnett speaking to our team and introducing us to the concept of mindfulness. His presentation was the perfect combination of background about the concept and active learning exercises. Many on my team expressed their thanks, and they felt it demonstrated that leadership really cared about employees because we helped them learn about this valuable stress-reducing technique. Plus, we all felt energized after our participation!
Organizational Programming
We appreciate your intention to support your team with mindfulness. Contact us to make it happen.
Introduction to Mindfulness (2 – 4 hours)
A great place to start! This interactive presentation introduces attendees to the research behind mindfulness and teaches some basic practices. Students leave with a handout and a tool kit of simple practices to use at work and home. They also have the shared experience of practicing mindfulness together, creating a supportive and engaged community moving forward.
Other workshops include:
Mindfulness & Emotional Resilience (2 – 4 hours)
Feeling overwhelmed? Worn down by serving others? Need in-the-moment tools to decrease stress? By cultivating mindfulness and compassion, we're able to know our emotions more fully, respond to strong emotions more wisely, and cultivate and strengthen positive emotions — all of which builds resilience.
Mindful Communication (2 – 4 hours)
In the Mindful Communication workshop, we'll focus on fostering a healthier work environment. By improving communication, we can decrease stress and build a foundation for a safe, supportive, and nourishing workplace.
Mindful Leadership (2 – 4 hours)
Leadership presence is a tangible quality; those around a mindful leader see it and feel it. With dedication and practice, employees can transform their leadership abilities, bringing increased innovation, greater focus, improved productivity, and widespread compassion to the workplace and beyond.
MBSR (8-week course or 3-hour Intro)
The gold standard! A hands-on, research-supported course developed by Jon Kabat-Zinn at the University of Massachusetts Medical School in 1979. Available as an 8-week course or a 3-hour Intro. Take your team on a deep dive to build powerful tools, insights, and connection.
More About Mindfulness-Based Stress Reduction
Developed in 1979, Mindfulness-Based Stress Reduction (MBSR) is an 8-week course on mindfulness practice developed by Jon Kabat-Zinn at the University of Massachusetts Medical School.
Since then over 25,000 people have taken MBSR. It is considered the gold standard in mindfulness training: there are several other mindfulness-based classes and interventions, but MBSR is the oldest and most studied for improvements in health and well-being.
This interactive course helps you draw on your own inner resources to actively engage in caring for yourself. This can lead to finding greater balance, ease, and peace of mind.
RESEARCH EVIDENCE SUGGESTS MBSR IS HELPFUL FOR:
immune system function
reducing anxiety
preventing relapse of depression
reducing negative emotions
responding to stress
managing chronic pain
enhancing compassion and altruism
professionals: coping with stress, connecting with patients, and reducing burnout-inducing negative emotions and anxiety
veterans and other sufferers of PTSD
general health and well-being
OUR 8-WEEK MINDFULNESS-BASED STRESS REDUCTION COURSE
In a safe, supportive atmosphere, you'll work with your classmates and instructor to:
Explore mindfulness practices including sitting and walking meditation, mindful movement, body awareness, and others.
Learn mindful approaches to manage pain, stress, and difficulty in an effective way.
Connect with the wisdom of your own body and learn to relax tension.
Develop tools to work with and transform stressful situations and reactions.
Discover how to address depression and anxiety more skillfully.
Gain more control over your own health and well-being, feeling empowered to live with more joy and equanimity.
Thousands of people from all walks of life have benefited from the Mindfulness-Based Stress Reduction program – and you can too! This program is suitable for anyone who is interested in living a less stressful and more rewarding life.
Mindfulness for Healthcare Professionals (5-week course)
Mindfulness for Healthcare Professionals is a short, powerful course on stress reduction and burnout prevention containing the core elements of the renowned Mindfulness-Based Stress Reduction (MBSR).  Research shows significant benefits for participants' job satisfaction, their relationships with patients and co-workers, and their focus and creativity at work.
More About Healthcare Professional Programs
Since 2012, Mindfulness Northwest has been providing training in mindfulness to healthcare professionals and staff. Our signature 5-week class, Mindfulness for Healthcare Professionals, has been offered over 25 times to professionals at UW Medical Center, Kaiser Permanente, PeaceHealth, The Everett Clinic, Evergreen Medical, Skagit Valley Medical, Washington Physicians Health Program, and others.
Please contact us for more information.
MINDFULNESS FOR HEALTHCARE PROFESSIONALS
Mindfulness for Healthcare Professionals (MHP) will train organizational leadership and staff in the core elements of MBSR over a shorter time period. As with the full MBSR curriculum, research has shown that this training can have significant benefits for participants' job satisfaction, their relationships with patients and co-workers, and their focus and creativity at work.
Preliminary data we've collected suggests our Mindfulness for Healthcare Professionals course (MHP) results in a decrease of burnout symptoms, an increase in mindfulness, and a decrease in perceived stress.
Format: 5 classes, one extended session, and daily home practice.
Custom offerings
We would love to work with you to design a program tailor-made for your circumstances. Please contact us to start the process.
For inspiration, visit our PROGRAMS page with a complete list of community workshops and courses. We're happy to offer exclusive versions of any of our programming to your organization.
Besides the excellent quality of their well-designed and well-executed Mindfulness-Based Stress Reduction programs, we appreciated Mindfulness Northwest's businesslike approach and their responsiveness to the scheduling needs of our client organizations.
We were all so relaxed and calm after the session yesterday! [The instructor] gave us more tools to continue our mindfulness journey and primed us for a wonderful discussion with our CEO. I'm sure we will be in touch again. Thank you very much for your help with our event. It was lovely.