Dumas Bay Centre (Federal Way)
3200 SW Dash Point Rd
Federal Way, WA 98023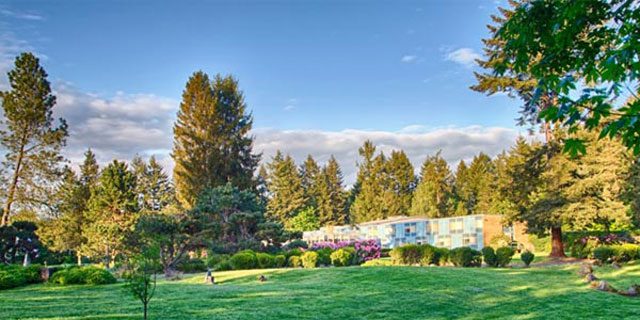 Set on 12 acres with beautiful views of Puget Sound and the Olympic Mountains, Dumas Bay Retreat Centre is a peaceful former convent, located just 35 minutes from Seattle and 30 minutes from SeaTac Airport. They offer comfortable accommodations, tasty catered meals, and a large welcoming space for us to meet with lovely views.
The housing is all single rooms with en-suite half-bathrooms. Showers are just down the hall.
WiFi is available throughout the building, although refraining from the use of electronic devices are you are able is strongly recommended while on retreat.
From Interstate 5 heading north or south, take Exit 143.
Go west on 320th St. toward downtown.
Stay on 320th for approximately 4 miles until it ends at a three-way stop.
Take a right onto 47th Avenue and continue until it ends.
Take a right at the first stop sign onto Dash Point Road (WA State 509).
Dumas Bay Centre is one (1) mile down on the left side of the street.
Our programs originate in the beautiful Pacific Northwest, home to the Coast Salish people since time immemorial. We humbly acknowledge that we are here as a result of colonialism. We are grateful to the Lhaq'te'mish (Lummi Nation), Nuxwsá7aq (Nooksack), Dxʷdəwʔabš (Duwamish), and our other native neighbors for their ongoing leadership and advocacy on behalf of our common home.
Upcoming Programs at Dumas Bay Centre (Federal Way)
No programs at this venue