Tacoma Nature Center
1919 S Tyler St
Tacoma, WA 98405
Tacoma Nature Center is a property of the City of Tacoma Parks that features trails, a playground and interpretive center. Our events take place in the Great Room.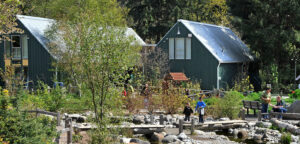 ACCESSIBILITY
Parking: There is designated ADA parking on site. Passenger drop off is allowed at the base of the entry ramp.
Entrance: Main Entrance is the accessible entrance. There is a ramp with handrails to the main entry; slope is 5-8%. External doors are not automated and may require some assistance.
Route: There is a 36″ + wide accessible route through the internal exhibits and displays. There is an elevator to the lower level classrooms. Route to all classrooms, auditorium and entry ways are maintained for safety and access.
Restrooms: On-site restrooms on the main (upper) level are accessible.
Our programs originate in the beautiful Pacific Northwest, home to the Coast Salish people since time immemorial. We humbly acknowledge that we are here as a result of colonialism. We are grateful to the Lhaq'te'mish (Lummi Nation), Nuxwsá7aq (Nooksack), Dxʷdəwʔabš (Duwamish), and our other native neighbors for their ongoing leadership and advocacy on behalf of our common home.
Upcoming Programs at Tacoma Nature Center
No programs at this venue