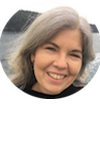 November 11
Program Description
Are you interested in mindfulness and its potential for enhancing health and well-being? Are you under stress? Or do you simply want to live a fuller life with greater balance? Start here! In this interactive, introductory presentation you'll learn some of the basic principles and practices of mindfulness to use at work and home.
This workshop is offered at no cost and sponsored by Mindfulness Northwest as part of a pilot project to offer mindfulness courses, workshops, and retreats in the San Juan islands.
Facilitated by Teresa Johnson, Certified Mindfulness Instructor and a resident of Friday Harbor.
Although this event is free, please register to let us know you're coming. We look forward to seeing you soon.
We ask that all participants wear facemasks and be fully COVID-19 vaccinated to attend in-person events.

SCHEDULE
Thursday, November 11
6:30pm – 8pm
TEACHER
Teresa Johnson
LOCATION
COST
Free
Register for this program
Return To Previous Page