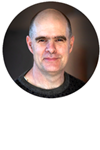 Every Wednesday
ONLINE
1-hour drop-in session
Join Tim Burnett, Mindfulness Northwest's Executive Director and Guiding Teacher, for an hour of live online mindfulness practice. Expect a guided meditation, a short talk, and group discussion in a warm, welcoming atmosphere.
All are welcome to join this community of practice!
"It's been so wonderful for me to experience the growth and stability of this online community. We're always looking for ways to make mindfulness more open and accessible, and when I started offering this weekly drop-in program a few years ago I figured it would be a nice mid-day refresher that people could come to on their lunch hour. What I didn't expect was the incredible warmth and interconnection between both our regular participants and those who come once in a while. I look forward to turning on Zoom each Wednesday to get to be with everyone, to offer what I can, and to receive the benefit of getting to practice myself!"    – Tim Burnett, lead instructor of Mid-Day Mindfulness
SCHEDULE
Wednesdays from 12-1pm PST. Register below, then drop-in for one or many sessions.
TEACHER
Tim Burnett and other Mindfulness Northwest teachers when Tim is unavailable.
LOCATION
Offered Live Online. Zoom link will be sent to you by email once you register.
COST
This program is offered for no charge. A donation to our Accessibility Fund is warmly invited to pay it forward. $5 – $25 per session suggested.
Register for this program
Please log in
if you have an account