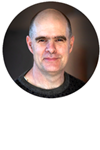 ONLINE
2-hour workshop
Do you feel exhausted, overwhelmed, like you can't concentrate? You are not alone! Join us for a hands-on exploration of mindfulness practices that will help you refocus your attention and include your own well-being in the to-do list as we continue to navigate these difficult times.
In this two-hour workshop we'll explore what mindfulness is, and how to find the relief that comes with present-centered awareness. For when stress and fatigue strike hard: we'll learn tools you can use to reduce the impact – or at least not make things worse! We'll even practice cultivating kindness for ourselves as the skilled but imperfect humans we all are.
SCHEDULE
Thursday, October 7
6:30 – 8:30pm PT
TEACHER
Tim Burnett
LOCATION
Offered Live Online. Zoom link will be sent to you by email once you register.
COST
Tuition is offered on a sliding scale ($45-$70). We also offer a limited number of scholarships for each program. No need to apply; simply choose the amount that's right for your budget.
Register for this program
Registration is closed for this program.