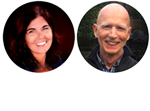 ONLINE
3-hour workshop
A 3-hour workshop exploring our relationships. We feel it, and neuroscience proves it: human beings need connection to thrive in all relationships – at home, at work, in the world.
How do we cultivate the feelings of safety, security, and well-being we need to feel connected? Mindfulness can help.
In this workshop we'll explore:
The definition of mindfulness
Getting to the root of harmful relationship patterns such as blame, defensiveness, avoiding conflict, and shutting down
Letting go of unhelpful narratives about ourselves and others
Awareness of feelings and needs for more skillful communication and emotional resilience
By bringing mindfulness to our interactions, we can enrich all of our relationships. We'd love to practice with you.
SCHEDULE
Saturday, December 4
2pm – 5pm PST
TEACHERS
Teresa and Richard Johnson
LOCATION
Offered Live Online. Zoom link will be sent to you by email once you register.
COST
Tuition is offered on a sliding scale ($45-$100). We also offer payment plans and a limited number of scholarships for each program. No need to apply; simply choose the amount that's right for your budget.
Register for this program
Registration is closed for this program.