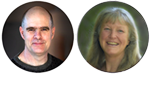 In person in Blaine (Semiahmoo)
1-day retreat
As the season turns towards Summer, let's renew our commitment to deep self-care, rooted in our Mindful Self-Compassion program with the support of gentle and accessible body-based practices.
Look forward to meditations to ground and center, self-compassion exercises to explore emotional wellness, and gentle yoga, self-massage, and self-acupressure.
Guest teacher Raizelah Bayen is a certified yoga teacher and massage therapist, with over 20 years of teaching experience in self-care and wellness workshops. Raizelah is the owner and director of Open Pathways Institute for Integrative Massage Therapy.
SCHEDULE
Sunday, July 17
9:00am – 4:00pm
TEACHERS
Tim Burnett & Raizelah Bayen
LOCATION
Semiahmoo County Park Cannery Lodge (Whatcom County)
COST
Tuition is offered on a sliding scale ($100-$200). We also offer payment plans and a limited number of scholarships for each program. No need to apply; simply choose the amount that's right for your budget.
Register for this program
Registration is closed for this program.