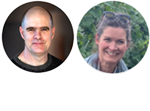 October 8 - 15, 2023
In person in Bow (Samish Island)
5-day retreat
Join us for our annual 7-day guided silent mindfulness retreat in the style of Mindfulness-Based Stress Reduction (MBSR) at a beautiful retreat site on Samish Island in the Skagit River Delta near Bow, Washington (roughly 90 minutes north of Seattle). This retreat is a deep exploration of the roots of mindfulness practices, both experientially and through a series of talks on Buddhist teachings and connected ideas from philosophy, poetry, and the sciences.
LOCATION
The beautiful Samish Island Campground and Retreat Center, maintained by the Community of Christ at the east end of Samish Island, (the "island" is accessible by road) offers stunning views, deep quiet, and simple accommodations. Mindfulness Northwest has been offering retreats at Samish for many years. More details about the venue can be found here.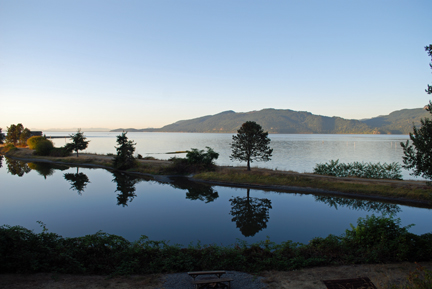 2023 "ROOTS" TEACHINGS THEME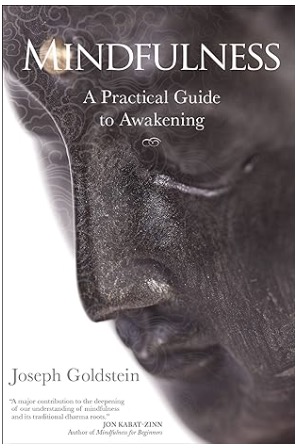 A unique aspect of our multi-day silent mindfulness meditation retreats are the daily talks by lead teacher Tim Burnett. Calling upon his backgrounds as a senior teacher of both mindfulness and Buddhism, Tim supports us in making deep connections between what we're experiencing and traditional and contemporary teachings.
This year's theme is a return to the most essential Buddhist root of the mindfulness movement. Tim will be diving into the traditional Mindfulness Sutra (Satipatthana) this time supported by the extensive commentary by Joseph Goldstein recorded in this book Mindfulness.
SCHEDULE DETAILS
This silent retreat starts with check in from 4 to 5pm on the opening Sunday, and closes at 2pm on the next Sunday. We'll rise early, beginning each day of practice at 6:30am, and go steadily through each day in silence and contemplation, closing at 8:30pm. There will be breaks after meals for rest, exercise, and other self-care. 
Feedback from participants in our retreats:
"Calming and centering."
"Affordable and high quality."
"Excellent teachers, beautiful location, deepening of personal practice."
WHO THIS RETREAT IS FOR
Students of mindfulness interested in deepening and maintaining their practice
Mindfulness teachers who'd like to strengthen their understanding of the Buddhist roots of contemporary mindfulness
Those who have taken a course in Mindfulness-Based Stress Reduction, Mindful Self-Compassion, or Mindfulness for Healthcare Professionals.
Adults age 18 and over
Your first longer retreat?
Before sitting a multi-day retreat, we recommend that you have teacher-led experience with mindfulness or related contemplative practices. Please contact us if you have questions about whether this retreat will be appropriate for you.
COST
$790 – $1470 (or $198 – $368/month)
Sliding scale: Choose what's right for you.
Payment plan option: 4-months, no-interest.
Limited scholarships available: No need to apply; just choose a scholarship tuition during registration.
Lodging – An additional surcharge applies for some lodging options.
Attend with a Friend Discount
When you and a friend both register for this program, you can both take
20% OFF
 using the code "FallFriends" at checkout! Ends Oct 1.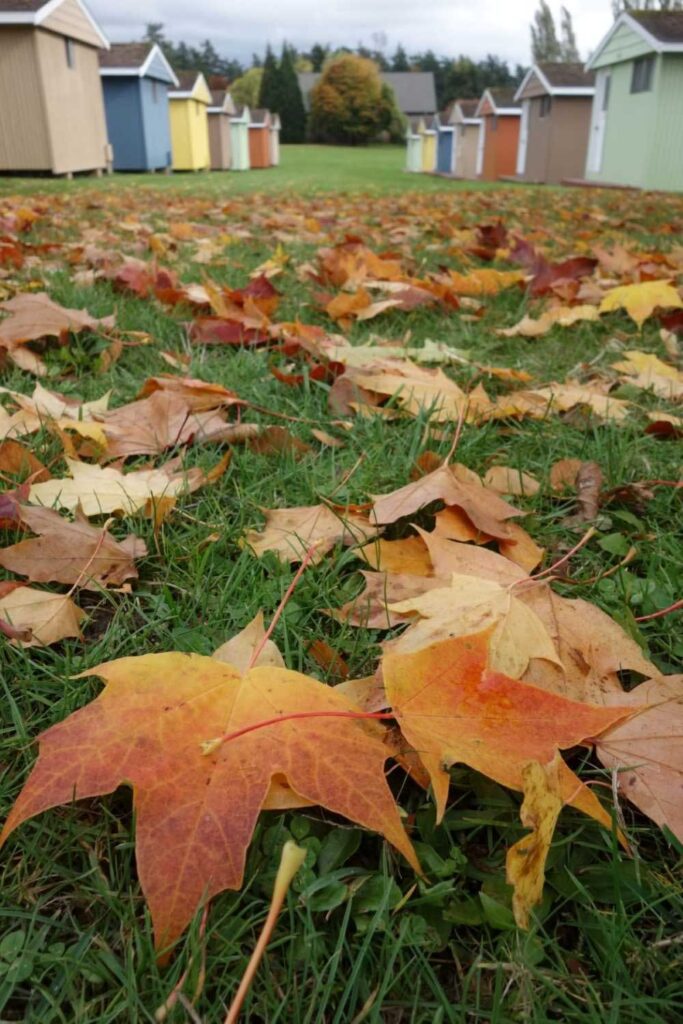 COVID POLICY
Please review our current COVID policy before registering. Overnight retreats involve considerably more interaction and time together. We may require additional steps such as home testing before arrival or masking at retreats.
Roots of Mindfulness was a beautifully held opportunity to truly reset my mind, body and spirit. The simple, yet powerful mindfulness practices allowed a joy to emerge that has been a true blessing.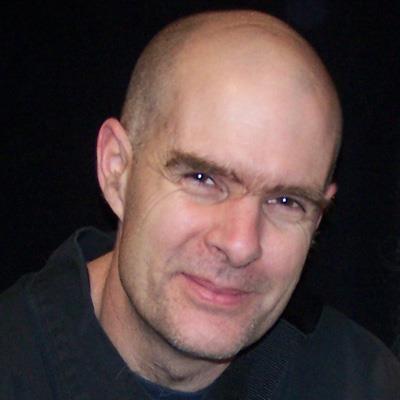 Rev. Tim Burnett
(he/him) Executive Director, Founder, Guiding Teacher
Tim founded MIndfulness Northwest in 2011 with the hope of offering the transformational practices he'd learned as a student of Zen Buddhism much more widely to the community. He is a certified teacher of Mindfulness-Based Stress Reduction (MBSR), Mindful Self-Compassion (MSC), and Compassion Cultivation Training (CCT). A meditator since his teenage years, Tim's background in traditional Dharma practice informs his mindfulness work. Ordained as a Soto Zen priest in 2000, he apprenticed with Zen teacher Zoketsu Norman Fischer and is the Guiding Teacher of Red Cedar Zen Community in Bellingham. Former jobs include educator, carpenter, software developer, and scientist. When not in the classroom, you might find him hiking, paddling, or birding.
Tim has been leading multi-day retreats in both the mindfulness and Zen Buddhist styles for many years. For these retreats Tim loves offering a universal ("secular") mindfulness retreat experience while also plumbing the depth of Buddhist texts and philosphy that form one of the deep roots of this work. You can explore an example of Tim's teachings at a prior retreat.
Annie Shull
(she/her) Visiting Teacher
Endurance running and an impending surgery led Annie to explore mindfulness meditation. After self-study for 12 years, Annie launched into teacher training in 2017 with the goal of bringing mindfulness to others. She is a certified Mindfulness Meditation Instructor and Mindfulness-Based Stress Reduction Teacher-in-Training. After two decades of curriculum development and marketing experience in the tech sector and wine industry, Annie combines her passion for teaching and sharing the relief that can be found in the simplest of mindfulness practices, especially delighting in everyday mindfulness moments.
FOOD & ACCOMMODATIONS
Simple accommodations and tasty, nutritious meals are included in your registration. The wonderful cooks at Samish can always accommodate gluten free, dairy-free, nut-free and vegetarian diets. If your dietary needs require bringing your own food, fridge space is available, as is a microwave.
Most rooms are comfortable single-occupancy rustic cabins sharing the campground bathhouses. There is an option for motel-style rooms with a shared en-suite bath for a surcharge. RV and tent camping are also available (water and electrical hookup provided). More information about accommodations here.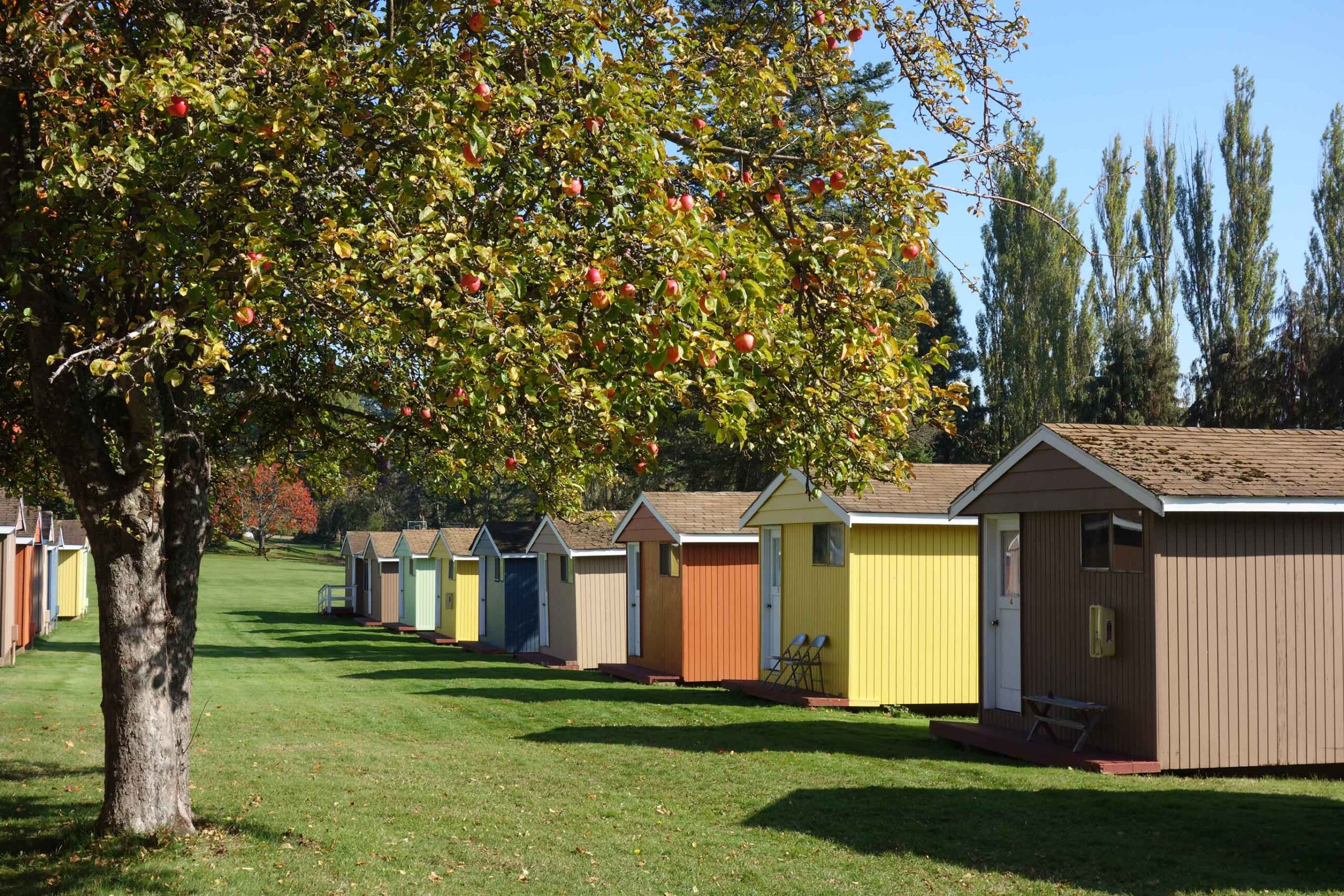 photo by Pam McRae
CAMP CHORES
Note that Samish is very lightly staffed allowing it to be more affordable than most venues. This helps us to hold registration fees at an affordable level. Every participant helps out with camp chores such as washing dishes and cleaning the buildings at the end of the retreat.
TEACHER TRAINING AND DEVELOPMENT
This retreat meets prerequisite requirements of a 5-day silent, guided retreat for the following teacher training programs:
About Our Multi-Day Silent Retreats
​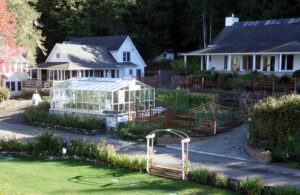 Residential Retreats are multi-day teacher-led silent meditation retreats. After initial introductory greetings and information your instructors will explain how silent retreat practice works to support you in a deep experience of practice. The daily schedule will include gently guided sitting and walking meditation, morning teachings, mindful movement, and the body scan, as well as compassion cultivation and loving-kindness meditations.
We also offer Residential Trainings for Mindfulness-Based Stress Reduction (MBSR) and Mindful Self-Compassion (MSC). These 5-day events, offered at retreat centers, mirror the content of our 8-week courses. They're much more interactive than a silent retreat. See our MBSR & MSC sections for more information.
WHO COMES TO RETREATS
All are welcome! We are honored to support each participant in their meditation practice regardless of their nationality, ethnicity, race, color, gender, gender identity, sexual identity, age, physical ability, political affiliation, or religion. Our retreats are suitable for beginning through experienced practitioners.
We are committed to offering support for any accessibility needs you have as we are able. Please contact us with any questions or requests related to accessibility prior to registering for a course.
YOUR FIRST LONGER RETREAT?
Before sitting a multi-day retreat we recommend that you have teacher-led experience with mindfulness or related contemplative practices. Please contact us if you have questions about whether this retreat will be appropriate for you.
IS RETREAT RIGHT FOR YOU?  Meditation retreats are not right for everyone. If you have a history of trauma or acute psychological issues, consider checking with a mental health professional to decide if intensive retreat practice would be supportive. If you have questions or concerns about whether a retreat is right for you, please contact us at office@mindfulnessnorthwest.com.
STRUCTURE AND PARTICIPATION
FOUR DAILY PRACTICE SESSIONS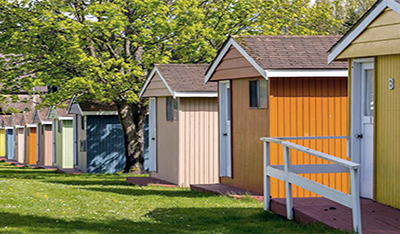 Mindfulness and compassion practices are offered in four blocks daily: early morning, morning, afternoon, and evening.
Participants are expected to attend all sessions and follow the printed schedule you will receive on site as fully as possible.
However, we are flexible and always willing to work with you on what your body and mind can reasonably do. Speak with the retreat teachers if you have concerns about following the complete schedule.
PRACTICING IN SILENCE
After the initial orientation and introductions on the first evening, our residential retreats are held in silence.
Participants are expected to follow guidelines around silence and participation:

not speaking to other participants including close friends or partners you are attending with
not using technology of any form
not reading books, magazines, flyers, or any reading materials
reducing interpersonal contact through the eyes or other body language

Necessary communication with the retreat teachers can be done via a notes station or by taking them aside.
The intention of silent retreat is to settle deeply into your own experience and to not interact with others, allowing everyone space to have the retreat they need to have -- including you!
PERSONAL AND INTERPERSONAL SAFETY
Participants are expected to be sensitive and responsive to these guidelines and the needs of fellow participants as fully as possible.
Please do not take photos or make recordings of other participants or the teachers.
Do not use alcohol or mind altering drugs of any kind.
Emergency contact information to share with loved ones is generally included on our venue pages. Venue staff and Mindfulness Northwest instructors will make sure you receive incoming messages promptly while your phone is off. If you are expecting an urgent message please let your instructor know.
Instructors are available at all times to offer support, including conversation if needed.
OTHER GUIDELINES
ATTEND THE ENTIRE RETREAT
Please arrive at the retreat at the beginning and stay until the end, as:
Arriving late will cause stress as you will miss the orientation.
Leaving early means you are offloading your clean-up chores on other participants and missing an opportunity for closure.
Please stay on campus unless invited to take an off-campus break by the instructors.
RETREAT CENTER CHORES
Several of our venues keep costs down, reducing your registration fee, by asking that event participants wash dishes, sweep floors, clean bathrooms, and do other chores around the facility. Final clean up chores before leaving are also done.
Participants are asked to do chores as fully as they are able. If you have physical limitations, we will help you find a suitable chore assignment.
WHAT TO BRING
Face masks ​​– please check our COVID policy for our current guidelines around masking. While masks may not be required at your training, it's always a good idea to bring some.
Extra COVID tests, in case you develop symptoms during the retreat.
Warm clothes in layers (sweater, jacket, raingear etc) Outdoor walking meditation will be a component of this retreat, rain or shine.
Shoes that are (1) fine walking in damp grass and (2) slip-on if possible. We take shoes on and off frequently. Slippers for the practice room can also be nice to have.
Toiletries and overnight things including a towel.
Bringing your own bedding (pillows, sheets, blankets or sleeping bag) is required at most of our venues. Please check your registration confirmation email for this information.
A flashlight can be helpful but venues are generally reasonably well lit. Sometimes there is walking between buildings in the early morning and evening.
A yoga mat if you have a favorite. We are able to bring mats to share.
Meditation cushions / supplies – if you have a meditation cushion(s), a bench or other sitting gear, feel free to bring it. We are able to bring a limited supply of cushions. Note that there are plenty of chairs available.
An extra blanket or two for the meditation hall – nice for body scans and resting.
LODGING
Lodging assignments will be available on check-in at the course venue. You will have a room to yourself at most of our venues.
AUDIO/VIDEO RECORDING TAKEN BY MINDFULNESS NORTHWEST
Mindfulness Northwest staff may occasionally create audio/video recordings of our instructors for certification and training purposes during these programs. These recordings will include only our instructors in the photo frame (though they may pick up student voices at some points in the recording) and are for internal use only.
We may also request your consent to take photos or videos for promotional purposes. Your image will not be captured or used without your consent.
Register for this program
Registration is closed for this program.