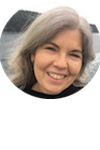 January 8 
 (Sunday afternoon)
In person in Seattle
3-hour workshop
Feeling overwhelmed by emotions? Challenged by your relationships? Would you like to understand your feelings more fully?

By cultivating mindfulness and compassion, we're able to know our emotions more fully, respond to strong emotions more wisely, and cultivate and strengthen positive emotions — all of which builds resilience.
This workshop will include:
A 22-page workbook with exercises and resources for building your resilience
Supportive guided meditations
Mindful journaling practices (please bring a notebook & pen or pencil)
Small and large group discussion
Practical tools for difficult moments in everyday life
In this three hour participatory workshop, you'll learn techniques to help you recognize and respond to difficult emotions with both mindfulness and compassion. Explore a variety of practices, learning simple tools to reduce stress and anxiety, increase joy, and weather life's difficulties with greater ease.
You'll learn to:

Know your emotions more fully
Respond to strong emotions more wisely
Cultivate and strengthen positive emotions
I would recommend this class to anyone who is interested in learning tools to help them respond to the challenges and vagaries of daily life more consciously and deliberately. I plan to take advantage of many more Mindfulness Northwest offerings. 
SCHEDULE
Sunday, January 8, 2023
2:00pm – 5:00pm
TEACHER
LOCATION
COST
Choose what's right for you on our sliding scale: $55 – $95

Scholarships – Limited scholarships available. No need to apply; just choose scholarship tuition during registration.
Payment Plans – No interest, 4 month payment plan option is available during registration.
Soothing. You will give yourself a gift by attending. I came away refreshed, with a couple new ways to help myself on a day to day basis.
Teresa Johnson: Teresa holds a BA in Secondary Education and is a Certified Mindfulness and Qualified Mindfulness-Based Stress Reduction Teacher, completing both teacher training programs through Mindfulness Northwest. In addition, she has completed training in the Mindful Schools (K-12) and Mindful Self-Compassion for Teens curricula. Core values that sustain her are service, love and beauty. Facilitating and witnessing inner growth brings her great joy, and she's excited about the many opportunities to do this in her roles with Mindfulness Northwest.
Register for this program
Registration is closed for this program.